How do I recover a deleted book?
You can recover books deleted within the last 30 days. Go to your Projects page and select "Recently Deleted" from the "Filter by Project Status" menu.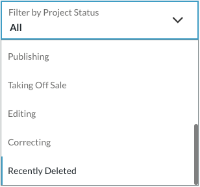 Find the book and click the "Recover" button. To find your recently recovered project, select "All" from the "Filtered by Project Status" menu or click Projects from the top navigation.
How do I remove a book from my Recently Deleted page?
Deleted books will be unrecoverable after 30 days. This action cannot be undone. To remove a book from the Recently Deleted page within the 30-day window, click on

and select "Delete".